Paris - Bread, cake and pastry
A tempting and mouth-watering universe in the French culture. Discover it!
B is for Boulangerie
Bread is close to a religion in France. Bakeries (boulangeries) take turns so there is always a bakery open every day of the week; Saturdays and Sundays bakeries are open all day without the usual midday closing hours of week-days. The baguette (stick in French) is the classic loaf of bread and new batch of freshly baked baguette appear constantly all day long.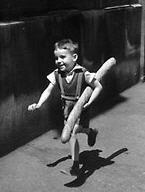 You will get used to people riding bikes or catching a metro holding a baguette underarm. The baguette should be eaten fresh, as it goes chewy very quickly. Bread is part of all meals, and it makes its main appearance at breakfast.
When in the boulangerie, beside the baguette, you have a choice over many types of bread.
The baguette price is fixed, but with other types of bread, bakers become creative both in the mix of flours and in prices.
Here is a list of bread shapes and types you may find in the parisian boulangeries.
Baguette tradition - similar in shape to the baguette differs from it in the type of flours used, it also keeps longer.
Boule - (boule stands for ball) round shaped bread, in different sizes and type of flours.
Ficelle - (Ficelle is french for string )thinner version of baguette.
Fougasse - a "focaccia" type of bread (or a "white soft pizza type of dough) often with bacon (aux lardon), onion (aux onions ) or a mix of herbs (aux herbes).
Pain de campagne - (campagne stands for countryside) farmhouse bread, a rustic loaf with a thick crust. Most traditional versions of this bread are made with a mix of white flour, whole wheat flour and/or rye flour, water, leavening and salt.
Pain complet - wholewheat/wholemeal bread.
Pain de mie:  (Mie stands for inside)- a soft semi-sweet loaf with a thin crust mainly used for sandwiches. To have it sliced ask for "tranche'" and the baker will pass it through a slicer and package it freshly sliced in front of you
Pain aux noix -  Bread with nuts. A type of bread eaten with cheeses and foie gras
Pain aux raisins -  Bread with raisins, either a breakfast treat or to eat with some cheeses.
Pain de siegle:   (siegle stands for rye) two thirds rye flour, one third wheat flour.
Gros pain - huge bread loaf sold by weight
Pain azyme - unleavened bread (not common in traditional bakeries)
Pain à chanter - unleavened bread
Pain au lait - sweet roll / bun
Pain au levain - traditionally leavened bread
Pain d'épices - gingerbread
Pain de Gênes - sponge cake with almonds
Pain doré - French toast (also called pain perdu)
Pain grillé - toast
Pain mollet - a bread roll made with milk
Pain moulé - bread cooked in container (moule) instead of cooking directly on the oven rack.
Pain de son - bran bread
Pain de sucre - sugar loaf
Petit pain - bread roll
Cakes
The local boulangerie might also sells cakes, but the real place where to purchase your cake is the Patisserie, a French bakery which specializes in pastries and sweets. Only bakeries employing a maitre patissier (master pastry chef) are entitled to be named Patisserie. The  maitre patissier is recognized as an artist and his/her creation will promote his creativity and genius to the people purchasing his/her work of art.
Patisserie also refers in general to pastries/biscuits which are either created by a patissier or are industrially produced.
Pastries
Pastries are the domain of the boulanger as well as the patissier, but in the patisserie you are more likely to find more refined little work of art rather that more simple pastries like croissants, chouchette or pain au chocolat.
The croissants (crescent in French from its shape) are nowadays a symbol of France, despite its origin tracing back to Austria (its creation still attributed to a French Chef, though!). The story told is that this pastry was produced by a French chef for the Austrian Emperor to celebrate his victory over the Ottoman Empire army, whose symbol was a crescent moon. The chef, upon his return to France, introduced the pastry to the French which instantly became a success and eventually an icon of the French.
To dispel a myth, it must be said that French people only occasionally have a croissant for everyday breakfast (when they do they never, never butter them!), but mostly consider croissants a special treat for Sundays. In bars, for breakfast French ask for a tartine (a piece of buttered baguette) to go with their cafe' creme or cafe' au lait 
Beside the croissant there are a number of tempting pastries on display in most boulangeries, for which knowing the name would not be enough, so be daring and start testing eclairs, religiouse, diplomat etc.
Poilâne
8 rue du Cherche-Midi
Tel.: 33 (0)1 45 48 42 59
Metro: Saint-Sulpice
Pierre Poilâne created this bakery in 1932,  and his son Lionel continues to bake bread in the original wood-fired oven. The specialty is a sourdough bread baked from stone-ground flour and its famous butter cookies.