About Sweden
Countries have different standards, so when moving abroad becomes imperative to have a basic knowledge of the standards used locally. Paguro has already done the research for you.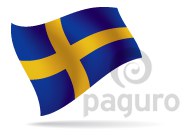 Language: Swedish is the official language of Sweden and it is a North Germanic language as well as one of the Scandinavian languages, spoken predominantly in Sweden and in part of Finland, especially along the coast and on the Åland islands. Danish and Norwegian are two of the other Scandinavian languages that can easily understand and speak with Swedish people.
Religion: In the historical past believers of other faiths were not allowed to live and work in Sweden, this changed with the liberalisation in late 18th century which consented to believers of other faiths (including Judaism and Catholicism) to openly live and work in Sweden, although it remained illegal until 1860 for Lutheran Swedes to convert to another religion. Leaving the Church of Sweden became legal with the so-called "Dissenter law" of 1860, but only under the provision of entering another denomination. The right to stand outside any religious denomination was established in the Law on Freedom of Religion in 1951. Today about three quarter of Swedes belong to the Church of Sweden, but participation in the church is declining; of significance are the about 100,000 Muslims in Sweden.
Currency: Since early 2002 the Euro has been the currency unit for most member states of the European Union, including Sweden. The Euro is divided into the following denominations.
Coins: 1, 2, 5, 10, 20, 50 cent ; 1 and 2 euro.

Notes: 5, 10, 20, 50, 100, 200, 500
Time zone: Standard time zone is GMT + 1 hour. This means that when in London is 11 am in Stockholm is 12 o'clock. Sweden observes Daylight Saving Time during summer months. 
Electricity: In Sweden is 220 - 230 volts, 50 Hertz. It is important to pay attention to the voltage system. Even though you've bought a plug adaptor, the different voltage may cause your expensive electrical appliances to cease functioning with a bang in a smelly cloud of blue smoke. If in doubt check light bulbs at home or in a supermarket and read the information on it.
Electrical plugs: Type C and type F.
Type C: A two-wire plug, ungrounded, with two round prongs, commonly known as Europlug, is probably the single most widely used international plug. It will mate with any socket that accepts 4.0-4.8 mm round contacts on 19 mm centres. It is commonly used in all countries of Europe except United Kingdom and Ireland.

Type F:

Plug F, commonly called "Schuko plug", is similar to C except that it is round and has the addition of two grounding clips on the side of the plug.
Phone jacks:  In Sweden you can find 22SWED, as well as the new Scandinavian 22SCAND and the American RJ-11.
Mobile phone system: GSM (Global System for Mobile communications) digital mobile phone and UMTS technologies are used for Sweden mobile phones. The major mobile phone operators are Telia, Tele2Comviq, Vodafone, 3, Spring Mobil.
DVD zone: DVDs are Region 2. It is possible to buy multi-region DVD players. 
TV system: PAL B/G system, like most of Europe. It is possible to get video recorders that play both NTSC (for Japanese and American videos) and PAL.
Measure system: Metric.
Phone code: country code is 46
International phone calls
Calling Sweden: IDD of the country you are calling from + 46 + city/area code + phone number

Calling from Sweden: dial 00 before the country code + city/area code + phone number.
Paper: The basic printer paper and folder paper size in Sweden is A4.
Mattresses: The standard measures of mattresses found in Sweden are the following 
Single bed: 90x200 cm (sometimes you can find also single mattress measuring 70x200)
Double bed Queen size: 140x200 cm  
Double bed King size: 180x200 cm  
Pillows: The standard measure for pillows is 50x60 cm.
Clothing sizes: Clothes come in European and American sizes, but sizes vary according to manufacturer. For instance, French and Italian makes tend to be smaller in size compared to Scandinavian and American sizes. For information about where to buy clothes, see Shopping.
Continental sizes are more commonly used. Recently the clothes that are imported tend to have a label that provides information on the equivalent American, British and Continental sizes.
The following is a conversion chart of clothes sizes:
Mens shirts
US/UK            European
14                    35
14.5                 36-37
15                    38
15.5                 39-40
16                    41
16.5                 42-43
17                    44
17.5                 45
Mens suits
US/UK                European
34                         44
36                         46
38                         48
40                         50
42                         52
44                         54
46                         56
Womens Dress and Suit Sizes
US           European      UK
N/A             34              8
 8               36            10
10              38            12
12              40            14
14              42            16
16              44            18
18              46            20
20              48            22
Children's clothes
European (height in cm)                    US                        UK
56 (newborn to 2 months)   X-Small (0-3 months)        17 to 21"
62 (2-4 months)                   Small (3-6 months)        19 to 23"
68 (4-6 months)                                                      23 to 27"
74 (6-9 months)                Medium (6-12 months)     27 to 29"
80 (9-12 months)              Large (12-18 months)       29 to 31"
90 (2 years)                       X-Large (18-24 months)   31 to 33"
125                                                 4                             43
135                                                 6                             48
150                                                 8                             55
155                                               10                             60
165                                               14                             62