Paguro partners with ezetop
Stay in touch with family and friends worldwide now with ezetop, the leader of international mobile phone reload, also used to send top-up to more than 150 cell phone providers in more than 60 countries around the world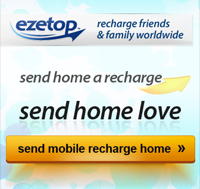 ezetop recharge widget image
Paguro is always on the look out for exciting new ways to keep in contact with family and friends abroad and to provide solutions to problems associated with an international lifestyle. 
If you are far from your loved ones, or know anyone who is, you will be excited to learn about Paguro's new partnership with ezetop services. 
This service enables relatives living abroad to support friends and family back in selected countries in a very practical way by delivering airtime directly to their cell phones. The service ezetop, the leader of international mobile phone reload, can now be also used to send the top-up to more than 150 cell phone providers in more than 60 countries all around the world. All it takes are a few clicks.
If you wish to register click here
After registering, all you will need to do is to select the country where you want to send the credit, choose a service provider and enter the phone number of the loved one you wish to send the gift to, it's that easy. 
You will find out instantly how much credit will be received.
Please test it and let us know what you think.