Rules, Britannia - An Insider's Guide to Life in the United Kingdom
Relocating from the USA to the UK, or just going for a vacation? Don't leave home without a copy of this entertaining and informative guide to life across the pond. With twenty two chapters covering everything from dining out, to driving and how the school system works, "Rules, Britannia" is an invaluable resource for Americans wanting to make a smooth transition to life in the United Kingdom.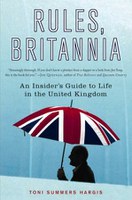 Rules, Britannia
How do you respond to a dinner invitation that says "Eight for eight thirty"?
What might induce you to get off a London train at a place called Mud Chute?
When is it okay to drive over a sleeping policeman?
And why do Brits say "Who's she? The cat's mother?"
"Rules, Britannia" is an entertaining and practical insider's guide containing scores of established do's and don'ts that only a Brit would know. Most of us know that an elevator is called a "lift" in the UK, and the trunk of your car is the "boot", but would you have a clue about a "sprog" or a "gobsmacked berk"?

These phrases are part of daily conversation in the UK and leave many visiting Americans as baffled as if they were listening to a foreign language. Rules, Britannia will ease the anxiety that comes with a transatlantic move or extended visit, and is sure to make any old Yank feel like a regular Joe Bloggs.
REVIEWS
"Amazingly thorough. If you don't know a plonker from a slapper or a berk from Joe Soap, this is the book for you."                                     
             Joe Queenan, author of True Believers and Queenan Country
"A godsend to Americans trying to negotiate the minefield of British life...it will be like having a helpful British best friend in your pocket, to guide you through all the tricky bits."
             Kate Fox, author of Watching the English
"Toni Summers Hargis answered questions I didn't even know I had....for anyone who wants to arrive in the UK armed with the knowledge of an insider, her book is well organized, humorous, and amazingly comprehensive." 
             Susan Allen Toth, author of My love affair with England and England as you Like it